Somewhere in the Mediterranean, at the bottom of the sea between Crete and Cyprus rests the wreck of the INS Dakar. The pictures below show metal pieces, parts of a broken submarine, silent items and still photography. Unseen to the us there are 69 men that perished along with their boat. The sea is their grave and between the wreck of their broken submarine they rest.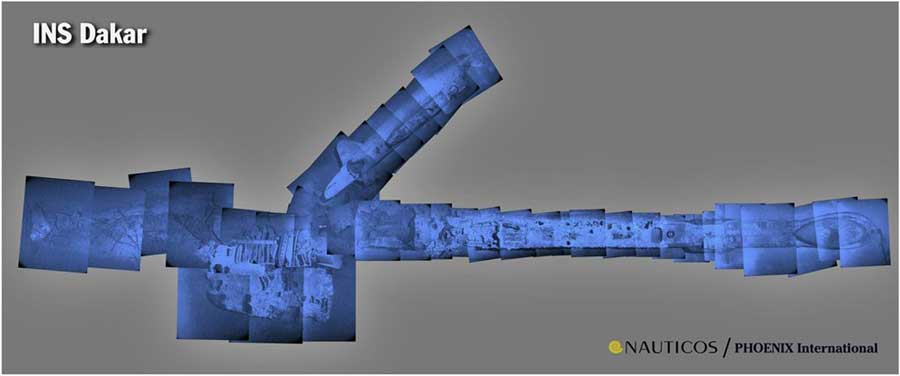 INS Dakar as she rests on the bottom of the Mediterranean. This picture was made off many small pictures taken by
Nauticos people, during the discovery expedition in May 1999 and the second and final expedition in october 2000.
Graphical illustration of the Dakar from 4 different angles.
| | |
| --- | --- |
| | |
| Bow and sonar dome | Anchor of the Dakar |
Memorial plaque mounted to the bow by
Tom Dettweiler and his crew

The memorial plaque before it was sent into the depths: "The men of INS Dakar, never forgotten"
| | |
| --- | --- |
| | |
| Deformation of the hull | Doorway between the Engine room and the Stern compartment |
After hatch - Stern section

The uniform of submariner Joseph Almog-Suisa
(click for the story of the uniform)
Emergency Breathing Apparatuses System
Hebrew writing is still clear after 32 years

Propellers and strut buried in the sand. Tips of 2 blades are seen.
| | |
| --- | --- |
| | |
| Bridge section before it was salvaged | Buoy basket. The buoy that was in that basket, was found in 1968, a year after the accident and 31 years before the discovery. |
Thanks to Tom Dettweiler and Nauticos corporation for letting us display those pictures.
copyright2003©all rights reserved
Sponsored by :
Zahal, IDF, Israel military store
Designed and cteated by
Uri Dotan Bochner
Dot@net
Copyright © 2000 - 2007 All rights reserved